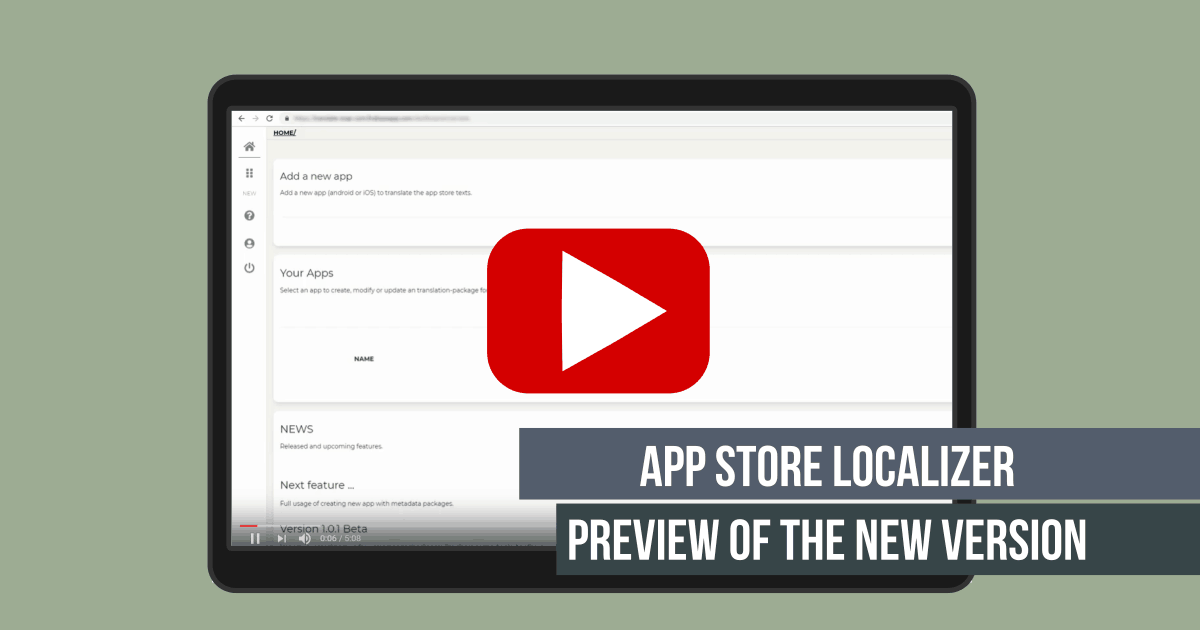 New App Store Automation – Preview
The version 0.5 of the App Store Localizer is like a guided wizard. It takes translations, manual and automatically created ones and transfers them to the app stores.
With the new Version 0.8 we introduce a different approach. While the creation of automated translations is still possible, the new focus is on app store automation. Managing your apps and their respective localizations.
All about App Store Automation
The stores require a lot of manual tasks and copy & paste. It's all about App Store Automation.
Login, set up representations for your apps and create as much translation packages as you like. Provide your standard descriptions and keywords. Prepare special keywords or promo texts for any other characteristics for your mobile apps.
Import human based translations and configure a scheduled transferal. The App Store Localizer automates, manages and simplifies your publishing tasks.
First (video) impressions of the new App Store Localizer
Watch a preview of our App Store Localizer here and let us know what you think.
Some new features
Import human based translations
Import existing translations from the Apple App Store and Google Play Store
Create and apply automated translations
Maintain your translation packages
Schedule a time for the automated upload or transfer your translations with a click
Re-use your work and apply everything as often as you like
Store and maintain your descriptions, titles and keywords easily
… many others are in the backlog
When is it all coming?
We are working hard on the next release of our App Store Localizer.
Let us know what you think about our ideas and we try to add yours to one of the next versions.
Subscribe to our newsletter to stay in contact.
Read about our tools and ideas