How to create beautiful app screenshots easily and quickly
Creating and providing app screenshots for your published apps is essential for Apple App Store Connect and Google Play Store.
It is important to take into account the respective specifications of the app stores. This refers not only to size specifications but also to content aspects. Essential scenes from the app should be depicted.
Basically, it is recommended to adapt the color scheme, impression, and wording to the respective target market and audience. Pay attention also, in the best case, to current trends, seasons, and cultural aspects.
I.e. you get the best screenshots if you tailor them perfectly to the target audience. This of course country-specific.
To achieve this in the best possible way will take some time. It is essentially manual work to be done manually in a graphics program of your choice. In the best case, also by a real designer.
This procedure is certainly the most complicated and elaborate. And certainly not equally suitable for everyone. Often, in addition to the time, the necessary budget may also be lacking. So what can you do?
Screenshot design creation tools
There are a variety of online app screenshot design tools that support the creation process. As a rule, you can choose between different templates. The next step is to add in-app screenshots in all required resolutions.
After that, labels are added. Ideally, these can be translated to create localized screenshots. Once you have created all mobile and tablet resolutions for Android and iOS, the whole batch is exported and ready for upload to the stores. Very few tools allow a direct transfer.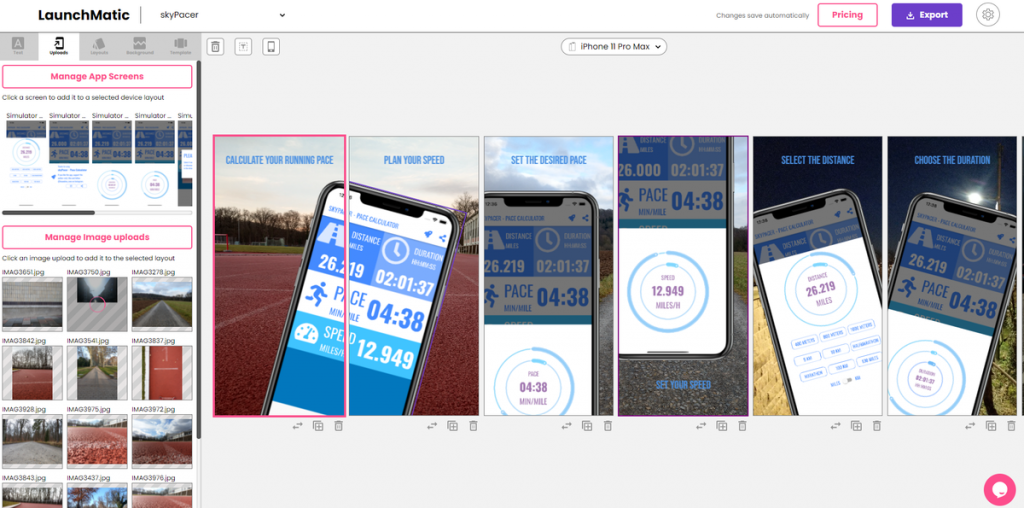 In the following, we have listed the tools we know so far ( anything missing? Let us know!):
Name
Store
Translation
Transfer
Pricing
Comment
AppScreens
€ 18
Modern application.
Plenty of templates. Translation available
App Store Screenshot
Free
Very basic
App Mockup
Free
At beta state at the moment
App Toolkit
$ 19
Component of a larger suite
Applaunchpad
$ 29
Not very appealing UI, lack of responsiveness
Appshots
$ 24.99
Only limited early access. Currently closed
Appure
$ 7.50
The prices only become clear at the end of the creation process
Davinci Apps
$ 8.25
Only a yearly subscription
Flycricket
Free,
$15 per year
besides creating app screenshots,
have an app website hosting as well
Launchmatic
$ 20
Many templates, translation, and all required devices.
Upload ready via our App Store Manager!
PlaceIt
$ 14.95
Many other templates and tools for all design purposes
Previewed
$ 9
Nice and clean UI.
Advanced mode to customize the templates
Screenshot Creator
$ 19
Nice UI, easy to try. Plenty of devices
Screenshotdesigner
€ 13
Only available for iOS screenshots and only as Apple software
ShotBot 3.0
Unknown
Registration only by email
Storeshots
€ 20
Credit-based pricing model
What to do with the screenshots?
Most of the mentioned tools only help to create the screenshots. If you work on a translation, 1000 and more images come together quickly. If the tools then offer no transfer to the two stores, the question arises – what now? Are manual steps necessary again to upload all the images? Of course, that would be a pity, after all, you have saved a lot of time with the creation. So what is to be done? The App Store Manager is the right tool for this. Pack all screenshots in a ZIP archive. Upload the file and start the bulk upload. This will eliminate the remaining manual steps.
Conclusion
Of course, creating and providing app screenshots with a perfect custom design is always the better choice. However, there is often a lack of budget or time. Therefore the listed software tools are a valid alternative. It should be mentioned that some tools look a little outdated. Others are modern and allow besides the pure creation of screenshots also the creation of advertising graphics or the like. Just try them out and give us feedback, which of them you like the most and saved the most time.
Read more from I WANT AN ELEPHANT