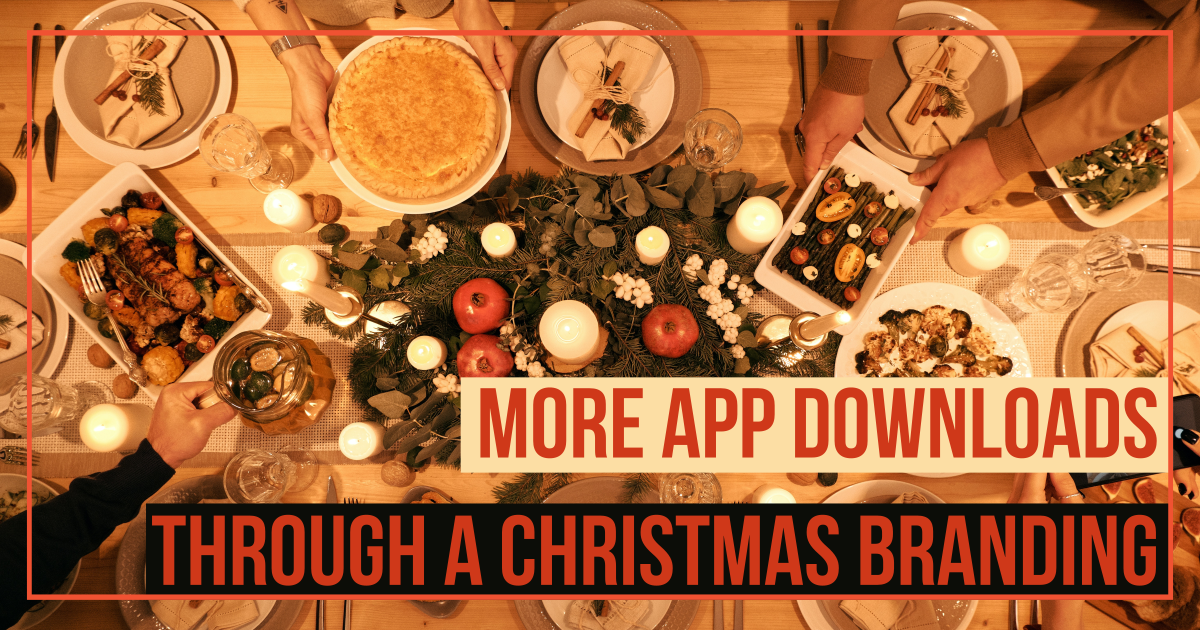 How to get more app downloads? Christmas updates!
It's late November. Christmas is coming soon (a so-called game for Android and iOS). This is an important holiday worldwide, when many people, potential users, are concerned with the topic of Christmas and even search for it in the stores. After all, gamers want to get into the Christmas spirit when they play.
This offers app publishers a wealth of opportunities. A new version, even for established apps, offers new opportunities for new downloads and users. Here are some ideas to get this Christmas boost for your apps!
Create a temporary app icon with a Christmas touch
Update app Screenshots and give them a Christmas look
Modify your app and apply a Christmas theme
Update App Description with Christmas keywords
Create a temporary app icon with a Christmas touch
App icons are usually the first impression potential users get of your app. Therefore an appealing icon is mandatory. Icons can be tested underbar such as A+B Testing (for Android, or some vendors: Splitmetrics, Storemaven… ). Which one appeals to more users? Which one manages to move more users from viewing the app in the store to downloading it. The Christmas season is ideal to test a new icon, a new style, or a different look and feel.
To do this, it also appeals more to users in the Christmas spirit. Important, regular updates of apps, but also the assets in the stores are essential for good placement. this includes, of course, the icons.
The example below shows three icons, The yellow one is the regular standard version. The two red ones are the customized versions for wintertime. They replace the normal, more generic icon with themes from the actual Christmas variant of the app. And red is of course always a good color for Christmas. Our experience shows, this measure alone, promises double-digit growth rates.
In our article series "Tools we use" you find some tools, sources, and ideas which could help you with the creation and design.
Create Christmas screenshots
App screenshots are always important. Users look at the first 2-3 images before they decide to download an app. Ideally, these should also contain real scenes from the apps.
By the way, not only ASO managers demand this, but also the regulations of the stores.
So, of course, it is also important to transfer the individualization or branding for Christmas to the screenshots as well. Screenshots can of course be created with common design tools. In addition, there are also a number of online tools that support the creation. For an easy upload of the screenshots – there can be thousands if you do it for all languages – you can use the App Store Manager with its bulk upload.
Apply a Christmas theme to your app
It involves a little more work, but also to retain existing users and offer them something new, it is recommended to customize the actual app. I.e. assets, texts, symbols, icons, or even different characters. Users will certainly appreciate the variety. The positive side effect, a new app update also brings positive effects in the findability in the app stores.
Update app description with Christmas keywords
After the app, the screenshots and also the icon is customized, the descriptions in App Store Connect and Google Play remain. It is important to include a few Christmas keywords. To do this, you first need to research for new, good terms. Use tools like Keyword Tool or one of the many commercial providers (many allow a few weeks of free use).
Once you have rewritten your descriptions and modified your keywords, use the App Store Manager to translate everything and upload all texts with a few clicks.
Conclusion – get more downloads with a Christmas Edition
Our customers and our own test series prove us right. It is always worthwhile to adapt apps to certain circumstances, such as Christmas. The relatively small effort is worth it. With a few clever adjustments, best of all using some clever tools, almost every app can be redesigned. In our experience, this immediately results in two to three-digit growth rates in views and downloads. So give it a try!
Read more about our services and ideas
Tags In