APP STORE MANAGEMENT, LOCALIZATION AND AUTOMATED TRANSFER
We at I WANT AN ELEPHANT create applications for app development, publishing and marketing
Our ASO tools and services
Manage, translate and upload your app descriptions
The easy-to-use App Store Localizer manages your app descriptions and transfers them within seconds. Provide keywords, descriptions and titles, get them translated (machine based) or provide your human based translations.
Upload and transfer everything directly. Manage your app store descriptions with the App Store Localizer.
Translate app release notes and get the required format
Providing release notes for your Android apps requires some manual tasks. Like translating, some copy and paste, creating the text format and uploading.
Use our Release Notes Creator to speed up the process. Create everything in seconds.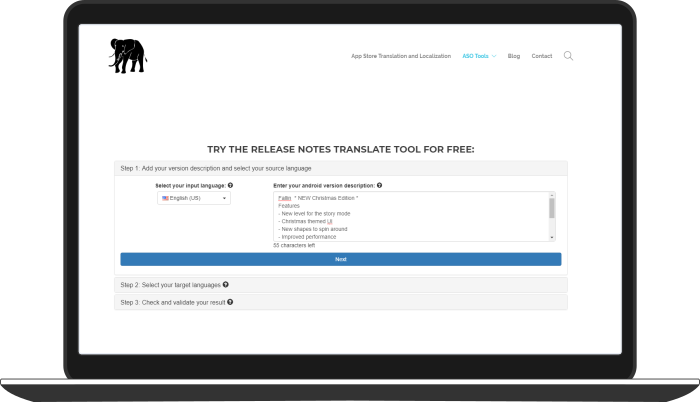 Export and Importer
Create backups of your App Store descriptions. Keep, modify and upload them back easily to your app store listing. Preserve your settings, create special versions, e.g. for A / B testing or special editions. Have your promotion descriptions ready and submit them with a click.
Mr. Review Phantastic
Marketing for your apps is essential. Mr. Review Phantastic provides an online list with valuable links of app reviewers and bloggers. Browse the list and address them directly. Provide your press kit and get your apps reviewed.
Our ASO ideas and articles
Subscribe to our newsletter for the latest updates