App Store Localization Management
App Store Localizer
Our easy-to-use App Store Localizer automates, translates and transfers your app descriptions quickly to both major app stores. Provide your keywords, titles and texts or receive automatically translated results and transfer them within seconds to Apple App Store or Google Play Store.
See the Localizer in action
App Store Localization Management
Localizing your store descriptions is essential for your App Store Optimization (ASO)
Having your keywords in place will spread your app's audience and increase your downloads. The keywords in as many languages as possible, widens your fan base even further and improves your impressions. App Store localization and translation is the key!
The whole process of applying your texts requires hours. Clicking through the stores and copy & paste all descriptions to all available languages is endless.
Translations can be human based but require professional translators. This can blow your tight budget. Calculate here!
You have to translate in over 70 languages for the Google Play Store and in over 25 languages for the Apple App Store.
This time could be used better!
Our App Store Localizer manages your app store descriptions. You provide human based translations or use the machine based translation feature. Transfer and upload everything with a click or on a scheduled bases.
Provide your base texts, titles, keywords, credentials and your translations or we translate everything for you within minutes.
Since the first release in 2018 the App Store Localizer helped to manage and upload content for hundreds of mobile apps and increased the app publisher's success and downloads.
Our App Store Localization Management service is easy, comes with a lot of help and will guide you through the whole process.
Localizer Benefits
Save your valuable time
Applying translations for all available languages and copying them to the stores will take you tons of hours. Our service will achieve this in seconds and you can focus on your apps instead.
Be more visible
Users search for keywords within their native language. Providing keywords in as many languages as possible, will increase your visibility world wide.
Get more downloads
Translate, localize and find new users for your apps across all countries. Open markets by distruputing localizations of your apps and app descriptions.
Save money
Translations can be purchased easily. Even the Play console has some offerings. Of course human translations are currently the best option. But this can blow your budget. An automatic translation is an affordable alternative.
Speed up special editions
Applying specials, season themed editions for your apps is an perfect option to attract new users and to keep your existing user base happy. Apply your prepared descriptions easily and quickly.
Complement your ASO
Testing different text versions and track your users behavior is standard ASO. Write different text versions and key words, transfer and upload them instantly. The Localizer uploads them directly without too much manual tasks.
Unique Features
Mange
Manage translations
Create and maintain app descriptions for your apps. Store and prepare them for a quick deployment. An intuitive UI guides you through the whole process.
Translate
Automatic translation
Translate your store descriptions, titles, short descriptions, promo texts and keywords automatically or apply your human based translations
Languages
Many languages
We currently support all major languages for the App Store and the Play Store. Select the languages for your markets and provide your text assets.
Upload
Transfer automatically
Upload and transfer your results automatically to the Google Play Console and iTunes Connect. Transfer ad hoc or schedule a specific date and time.
Screenshots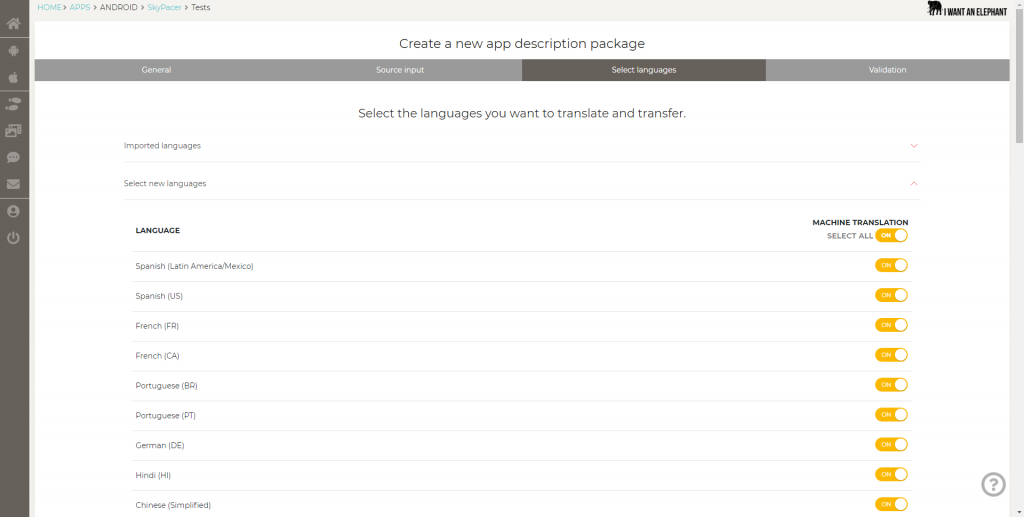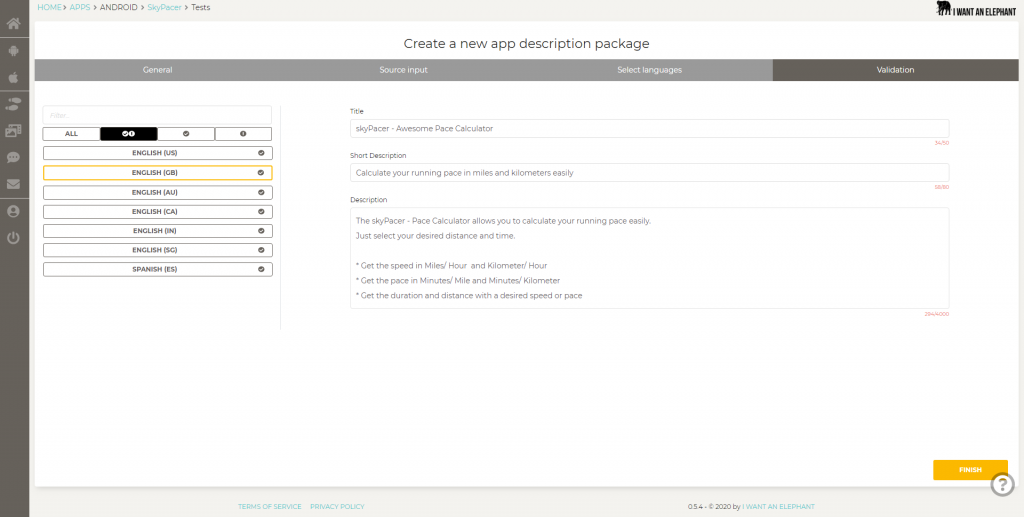 FAQ
What exactly do you mean by "managing" app descriptions?
The app stores (Apple & Google) allow to apply your texts, keywords, titles and so on in many different languages. You navigate within the stores and have to copy and paste anything manually. The App Store Localizer allows you to define complete sets of text descriptions. For example for events like Christmas or Halloween. You can modify everything, reuse, upload again, remove them and prepare everything in advance. It takes your ready translations and uploads them with a simple click or you set an exact date and time and everything will be in the stores whenever you require it. Keep track on your app stores.


Who uses the App Store Localizer?
The Localizer is used by app marketeers, publishers and developers. App marketing experts, technical or non-technical use the Localizer to transfer app store translations quickly.


What is the difference to Google Translate?
Google Translate just translates your texts. You have to copy all of your descriptions and keywords for all languages by hand. This results in a lot of clicks and manual copy and paste. Furthermore you have to copy and paste everything again to the stores. More clicks, tons of clicks. Our App Store Localizer automates the translation and the upload for you! This safes time that you can spend on other important tasks.


Which stores are supported?
We support the Apple App Store (iTunes Connect) and the Google Play Store (Google Play Console).


How good are your translations?
The translations are done automatically with Google translate or Microsoft Azure. Of course they are not perfect, but you will have your important keywords in all supported languages. That's what counts. We provide an easy-to-use UI where you can validate and correct the whole results.


Which languages do you support?
We currently support almost all available languages. 

For the Apple App Store we currently don't support the following:
ca (Canada), cs (Czech), hi (Hindi), hr (Croatia), hu (Hungary), ro (Romania), sk (Slovakia), uk (Ukraine), pl (Poland), no (Norway).

For the Google Play Store we don't support: 
am (Amharic), hy-AM (Armenian), az-AZ (Azerbaijani), eu-ES (Basque), be (Belarusian), my-MM (Burmese), zh-HK (Chinese (Hong Kong)), gl-ES (Galician), ka-GE (Georgian), kn-IN (Kannada), km-KH (Khmer), ky-KG (Kyrgyz), lo-LA (Lao), mk-MK (Macedonian), ml-IN (Malayalam), mr-IN (Marathi), mn-MN (Mongolian), ne-NP (Nepali), rm (Romansh), si-LK (Sinhala), te-IN (Telugu), zu (Zulu), en-Za.


But the Play Console already offers a translation!

That's correct. If you can afford it, you can buy professional human translations for your texts. They currently charge 0.07$ per word. A valid option, if you have the budget. Use our calculator to check if this fits for you.


Stay in touch
Subscribe to our newsletter to get the latest updates about our App Store Localizer and our other tools
Try our other services