Google Play Console – New Managed Publishing Feature
Google has recently introduced a new feature in the Google Play Console. "Managed publishing" allows a little more control over your publishing process.
Previously, changes in the Playstore always went live. Of course, after Google's validation and checks. Now, they can be verified again beforehand. An interesting function. Time to look at this more briefly.
What does Apple offer at this point?
Apple has been offering a similar feature for quite a long time. That is to say, I can't remember its introduction date.
Changes in the App Store can be made immediately after they have been checked by Apple, after approval by the publisher, or time-controlled. In other words, much flexibility for Apple publishers. Nice that Google follows the example.
Google's app publishing process
Google checks changes as usual and approves or rejects them based on the guidelines.
These changes to the store entries, this concerns among others title, short description or long description, screenshots or new build of the actual app itself can then be published after approval by the user.
I.e. not everything is always live then. So changes can also be published manually at certain times.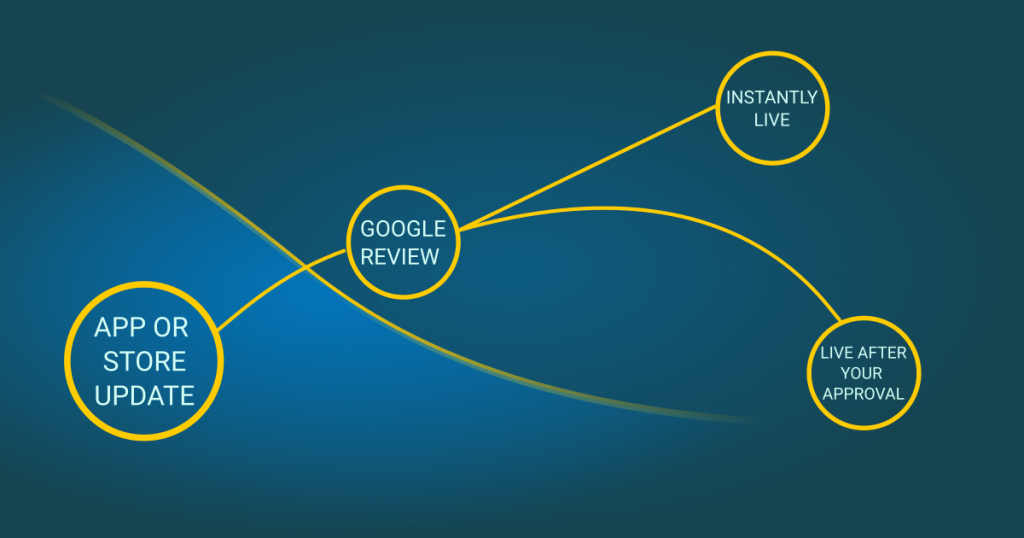 How to configure and use this feature?
You can find the new feature below the respective app and turn it on or off per app. To do this, navigate to the third entry in the menu site and select "Publishing overview".
Select "Manage" shows the configuration dialogue:
"Managed publishing on" – changes are live after Google's approval and after subsequent approval by the developer/publisher.
"Managed publishing off" – publishes changes immediately after Google has reviewed them.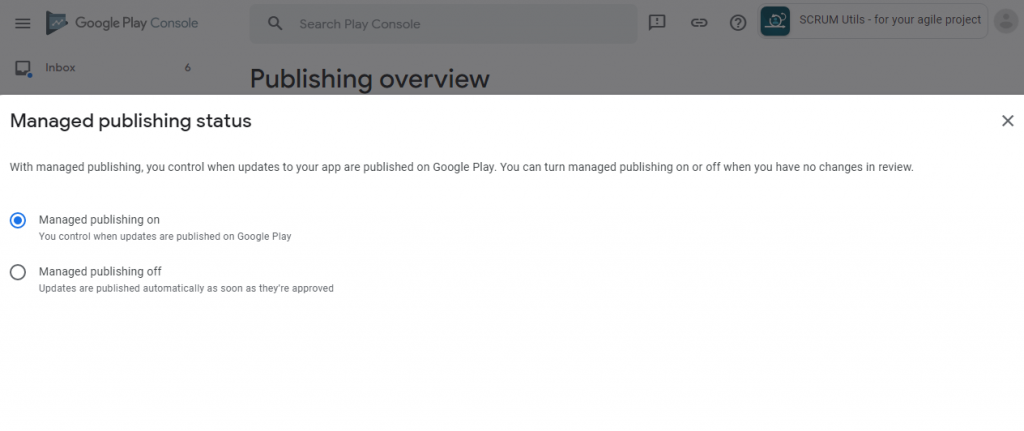 If "Managed publishing" is set, changes are displayed under "Publishing overview". After the approval, they can all be released in one go.
There is no option to remove items from the publishing process. In conclusion, changes have to go through the whole process again with this feature.
The feature considers the following changes:
Full and staged roll-outs of your releases (with exceptions listed below)
Launching and updating pre-registration
Store listing changes, including store listing experiments and custom store listings
App content changes
Changes to your app category
Managed Play settings
On the other hand, the following changes are excluded, and take effect, as before, immediately:
Increasing an existing staged roll-out to 100%
Updating your app's "Release notes" section
Changes to device exclusion rules
Managing testers
Unpublishing your app
Changes to your app's In-app products page
Price changes
Conclusion
To sum up, we are a bit disappointed with the new "Manage Publishing" feature. Apple offers more at this point with scheduled publishing and with the versioning. This results in better control and a better overview. The clarity in the Google Play Console has not improved. Admittedly, being able to check back on changes is at least worth a bit. That can help, but in total it is still too little.
For time-scheduled changes, we still like to fall back on the scheduling feature of the App Store Manager, which can do that for both stores.
Latest articles