How to update app descriptions with existing translations
App updates are undoubtedly crucial for the discoverability of App Store Connect and Google Play apps. But not only from ASO aspects, but of course also to announce and describe innovations, new features, and functions of the app.
However, keeping the descriptions up to date is tiring and annoying. Everything has to be done manually via copy & paste. There is no bulk or batch mechanism. There is not? At least not in the two big stores. We fill this gap with our App Store Manager. Import or create your app descriptions in the App Store Manager and transfer everything to the store with one click. This functionality saves an incredible amount of time. Moreover, it's reliable and allows you to focus on more critical tasks.
Import preparations
Collect your texts in a corresponding document, for example, Excel or Google Sheets. Check your translations for language, content keywords, and also text length.
Create a JSON format from your collection. This format is accepted by the App Store Manager in the "Free", "Small" and "Basic" subscription models. In addition, other input formats are available to users of the "Custom" subscription.
You can generate the JSON format from a table via script or add-ons. There are also various format conversion tools online that perform this task.
As a note: create separate files for Apple and Google.
If you require a specific import format or have questions quickly creating the import format, don't hesitate to contact us.
Import to the stores
Switches to the App Store Manager. Create an app and a description package. Now, you can import the previously created JSON file in the "File Import" tab. The steps are the same for Android and iOS apps.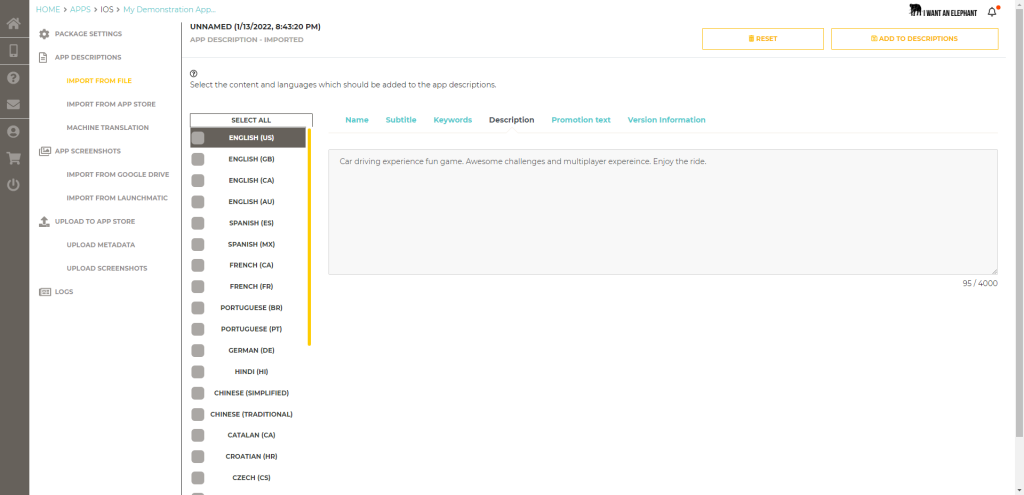 You can also select which languages you want to import. Maybe not all of them are required.
After transferring the chosen languages to the app, descriptions can be validated, adjusted, or corrected if desired.
Once all descriptions are in order, upload them. The App Store Manager needs access to the respective store for this process. See the instructions for Google Play Console and Apple Store Connect.


The upload itself takes a few minutes. After the upload, see the changes directly in the stores and, if desired, submit for review and approval by the store operator.
Essential: the rules and specifications of the store apply. Observe them in any case!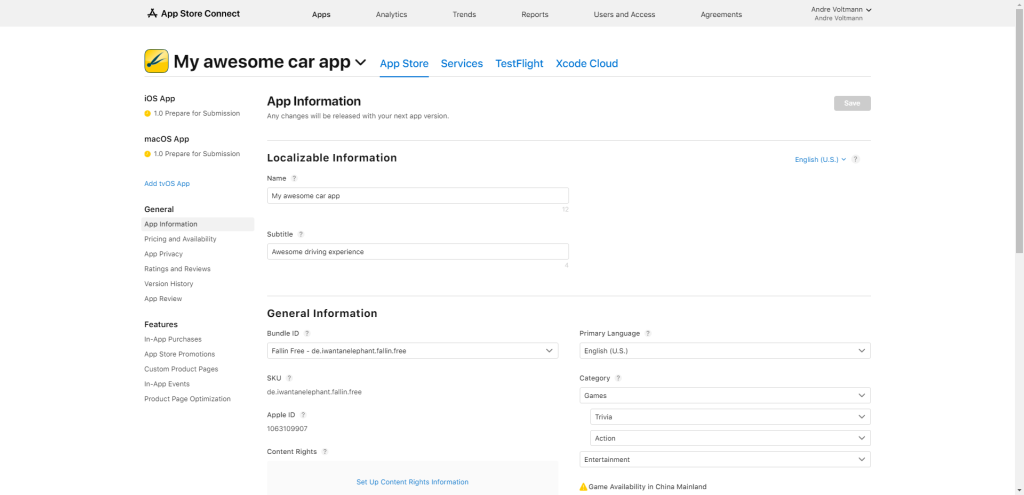 Conclusion – update app descriptions simply and with little effort.
Keeping the stores up to date requires app publishers' effort. Reduce this effort instantly with the App Store Manager. The App Store Manager offers a bulk upload for texts like titles, keywords, descriptions, or version information. And also for screenshots.
Existing texts can be easily uploaded to the App Store Manager and transferred to the stores with just a few clicks. The App Store Manager saves a lot of time, effort, and nerves. Try it directly. Free of charge!
Read more