New
Converting A Website To Android App: Reasons, Steps, and Tips
Almost every business nowadays has a website. People visit it, use its functionality, and buy products. However, having just a website in 2022 is not enough for successful business expansion because smartphone users worldwide have reached a stupefying 6.7 billion! You can't ignore such a large audience if you want to develop and expand your business.
Nowadays, 99% of smartphones run two operating systems — they are Android and iOS. At the same time, part of the OS users from Google is 72.11%, which is a considerable audience.
By reading this article, you will discover how to access this vast audience and transform your website into a modern Android app.
Some Issues to Consider
You will develop an app for Google Play, which is a reasonable decision. But before we go to discussing the benefits and details of development, we should discuss some points you should understand to convert your site much more efficiently.
Development expenditures
The first case you will face is the cost of developing additional software. However, these expenses should be considered a good investment in your business growth. Furthermore, with the opportunity to attract more consumers, you can significantly increase your profits.
The difference in screen sizes
Transforming a website for Google Play demands much work with optimization. It could be challenging to restore everything identical, specifically if there are many graphic elements. But qualified designers make creating a convenient, practical, and, most importantly, functional app easy.
Lower searchability
The further subject is that an app is less searchable than a web. App's popularity could be boosted quickly with your website. So, you can use links to your app, advertising posts, or information about the app features that aren't available on the site.
But what about transforming tools?
Indeed, there exist various tools that transform websites into an app on their own. Nevertheless, the characteristics of similar apps are pretty bad and only reduce the company's level and reputation. That's why a much more reasonable solution would be to hire a qualified app development team to guide the entire delivery process from start to finish.
Turning a Website Into Web: Reasons
Now let's consider why a smartphone app is a right decision to expand your interaction and get additional customers.
Achieving a more extensive audience
As we mentioned above, Android occupies a significant market part. Therefore, starting with this platform can reach as many users as possible. An app for Google's OS lets you expand the number of consumers and increase your income as soon as possible.
Fast implementation
Google deploys apps for its platform much faster than Apple. Hence users can download your app almost as soon as it's dropped.
Ease of customizing
Android is open-source software that allows customizing the app at any stage.
Expandability
Apps for Google Play also function on other system software, except iOS. That offers the possibility to expand the potential market further.
Well, now it's time to discuss the most pleasant pros of apps specifically for Android.
Advantages of an Android App Over the Website
So, let's name the top specificities of Android apps.
Perfect interactivity
Interaction between an app and a user occurs by itself using push notifications. Thus engagement and conversions increase.
Fast integration
A native Android app integrates into the platform quickly. It effectively interacts with the device utilities and productively realizes its purpose.
User-friendly interface
Unlike websites, apps' key interface elements are configured to be intuitive. Therefore, the app interaction becomes more pleasant.
Using multitouch
Multifarious gestures are possible only in smartphone apps, regardless of the software. Therefore, using them makes interacting more manageable and enjoyable.
Satisfactory personalization
Android apps do a much better job storing user information, enabling them to choose a convenient interface.
Independence from the network
Websites aren't functioning without high-speed internet, whereas mobile apps may be accessed even offline.
Operating all the capacities
As mobile gadgets are personal and collect enough data about user actions, you can better understand your customers' needs and improve accordingly.
Finally, let's review the practical actions to create one.
Step-by-Step Way to Convert a Website into Android App
It was already mentioned that to reach a high-quality result, you should not resort to using conversion platforms. Instead, the most reasonable solution would be to contact professionals.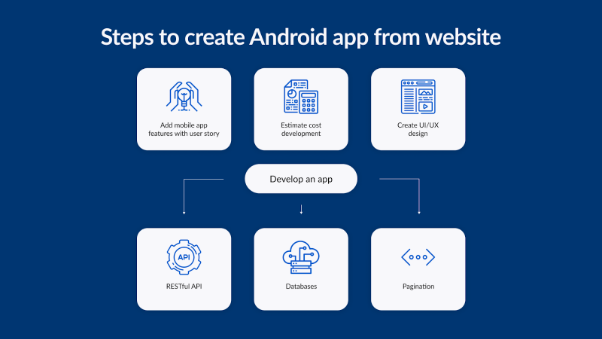 Steps to transform a website into an Android app
Let's discover the entire process.
Step 1. Feature catalog
Initially, describe all the site's functions to understand what the forthcoming app should appear and how it will function. It is worth mentioning that the app cannot be identical to the site. Several elements will vary, as they only have a sense just for the site, and others could exclusively be included in the app. Later, the head of the project writes an exhaustive checklist of attributes that allow programmers to find the most acceptable options for enforcing the demanded functionality.
Step 2. Costing
Afterward, because of the complexity and numerous features that need to be integrated, your vendor's experts can come up with a cost estimate and determine a proper way to convert a website into an Android app.
Step 3. UI/UX design
A prerequisite for a great and engaging app should be a unique and pleasant interface. For example, the colors can be the same as the site, but the design needs to be changed, considering the mobile platform and the characteristics of mobile gadgets. Proficient engineers will help you deal with the design and choose the best style.
Step 4. App development
Finally, we begin the app's delivery. In addition to using Android Studio, an integrated building environment for creating apps, Android programmers use some other technologies for proper internal development. Further, the app goes through QA testing and is finally deployed in Google Play.
But the project does not end there. Future support, implementation of new features, improvements, and updates will also be provided to you by the development team.
Some nuances to mention
Understanding that transmission between databases and servers differs on the web and mobile solutions is essential. Moreover, the structure of the mobile app is also distinct from the website. So if you already have an app for Apple devices, you might want to consider how to convert the iOS app to Android.
Thus, there is no general solution to conversion from the web to the app for the Android platform, which will be ideal by default. But by carefully studying the needs of your business and working in partnership with those experts, you can create a perfect application for your specific business.
Withdrawal
The difficulties of transitioning from a website to a mobile app cannot be denied. However, the efforts and finances spent on development bring many more benefits. Entering the mobile market in 2022 is an excellent way to outpace your competitors, and developing an Android app helps you take the first step toward future success.
The author
Yuliya Melnik is a technical writer at Cleveroad. It is a web and mobile app development company in Ukraine. She is passionate about innovative technologies that make the world a better place and loves creating content that evokes vivid emotions.
About guest articles on iwantanelephant.com and appmarketingblog.com
Guest authors and partners have the opportunity to publish their articles on our two blogs and connected social media channels.
Despite content checks by I WANT AN ELEPHANT, the respective partners are responsible for the content of the articles, including images and other media, as well as source information and links.
Submit your article here.
Read more