Hot
Create app screenshots for the App Store and the Play Store
How to create app screenshots?
With the App store Localizer you can easily update and transfer your app descriptions. Above all, this saves a lot of your publishing time and allows you to focus on your other app development or marketing tasks. But the app descriptions don't only consist of titles, keywords, and texts. Besides, there are screenshots as well. How to deal with them? How to create app screenshots for the App Store and the Play Store?
The Problem?
To market your app accordingly, you provide screenshots of your apps. Firstly, there are certain App Store Optimization (ASO) rules. Secondly, there are guidelines for the store's policies. Screenshots have to follow certain rules. For example, what the screenshots should and shouldn't show. You can use A+B testing to check what works best. However, how to create the screenshots? Which tools to use? Which process to follow? How to save hours of recurring work?
The best results for your apps are when you provide all screenshots, in all languages. And of course, for all available devices.
Create approx. 3.018 screenshots
Currently the Apple App Store requires at least screenshots for the iPhone 6.5" and 5.5" displays and the iPad Pro 12.9". The minimum number of screenshots per device is three, while the maximum is ten. If you want to achieve the best ASO results, you have to provide the screenshots in 39 languages and in 10 versions per device.
This results in 3*10*39 = 1.170 screenshots for each of your iOS apps.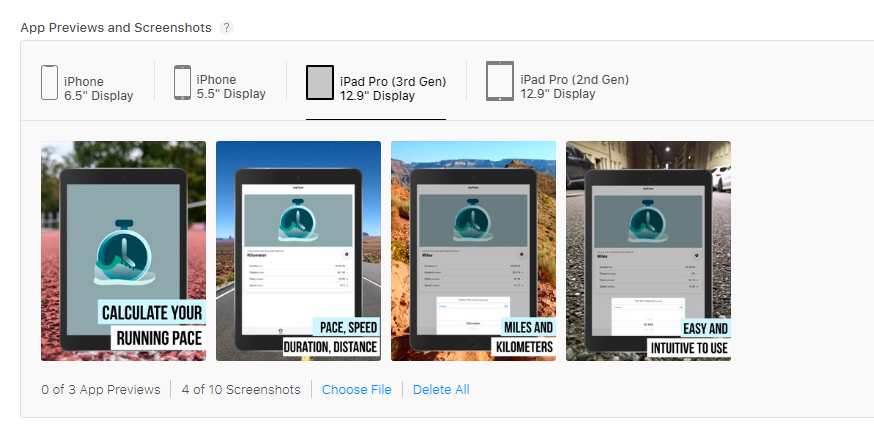 The Play Store/ Play Console asks for a little less but offers more languages. There are in total 77 languages supported. Two screenshots for one phone display size are required. Importantly, you should provide a maximum of eight screenshots per resolution for a better ASO. In addition, add the two tablet resolutions. 7" and 10" screenshots will be more appealing for your tablet users.
This results in 3*8*77 = 1.848 screenshots for each of your Android apps.
Hence, how to create all these images in a smart and handy way? How to upload all of them quickly? And how to provide updates on the pictures in case of app updates?
In conclusion you have to create and design 3.018 images to get the best result.
Creating screenshots
Designers have a wide choice of various software products to create drafts, mock-ups, layouts, and so on. Many of them are working with Sketch, Figma, or of course the classic Adobe products such as Adobe illustrator. There definitely are free tools such as Inkscape or Lunacy among many others. Whatever application is chosen, to create a massive amount of images, some automation features are required.
The basic steps to design app screenshots
Create your first resolution screenshots
Add rulers and guidelines
Import in-app screens (required as of store guidelines)
Apply other layout elements
Add texts
Work on typography
Finish and polish everything
The next steps include the creation of the other resolutions. They normally don't scale linearly. Therefore they have to be adjusted to fit. This is some kind of work, but it has to be done. After having set everything up, you can use automatism tools to copy the text from one resolution to another. Tools like Sketch, offer automatism functions to achieve that. There are free to use templates as well. They assist you in the process.
Check out some of the following resources to find some templates, and ideas about the automation within the design software:
Uploading to the stores
As soon as you have created your designs, it is time for a batch export and an upload to the stores. The upload itself consists of a massive amount of manually performed steps:
Navigate to the screenshot section
Select the language
Upload your screenshots by drag and drop
Rearrange the screenshots
Select the next language
Upload again
…
And when you are done, select the next resolution. And start all over again. See it live here:
Screenshot tools on the market
There are several tools on the market to assist you. Most of them follow the same approach:
Create your layouts offline
Upload them as a bulk
Select a phone frame (of almost all devices)
Place your layout within the frames
Apply your texts and select text positions
Download the screens
Some tools offer a direct transfer to the stores
Here are some tools, you can use and try:
| Name | Store | Translation | Transfer | Pricing | Comment |
| --- | --- | --- | --- | --- | --- |
| App Store Screenshot | | | | Free | Very basic |
| App Mockup | | | | Free | At beta state at the moment |
| App Toolkit | | | | $ 19 | Component of a larger suite |
| Applaunchpad | | | | $ 29 | Not very appealing UI, lack of responsiveness |
| Appshots | | | | $ 24.99 | Only limited early access. Currently closed |
| Appure | | | | $ 7.50 | The prices only become clear at the end of the creation process |
| Davinci Apps | | | | $ 8.25 | Only a yearly subscription |
| Jaamly | | | | $ 19 | Only available as iOS mobile app |
| Launchmatic | | | | $ 5 per export | Not available yet, pricing per usage. No trial available |
| PlaceIt | | | | $ 14.95 | Many other templates and tools for all design purposes |
| Previewed | | | | Free | Nice and clean UI. Advanced mode to customize the templates |
| Screenshotdesigner | | | | € 14 | Only available for iOS screenshots and only as Apple software |
| Screenshotmaker | | | | Unknown | Actually didn't work on our research |
| ShotBot 3.0 | | | | Unknown | Registration only by email |
| Storeshots | | | | € 20 | Credit based pricing model |
App screenshot maker tools
In summary, they're okay
The above-listed tools leave a mixed impression. They are kind of small layout tools themselves. That requires you to change and to adapt your processes. You have to keep in mind, what is offered by the respective tool. Which fonts are available, how the frames look like, and so on. This results in a lack of design freedom. Most of the listed tools are besides not very handy to use and lack of usability. As a result, you have to deal with functions, that would actually be located in your preferred design tool.
What is I WANT AN ELEPHANT's approach on creating screenshots?
By the time we started to create apps, we struggled in creating and localizing screenshots ourselves. We implemented some tools, to automate the creation and translation process. We even built a complete working online UI to create screenshots. In fact, the first App Store Localizer version only dealt with images.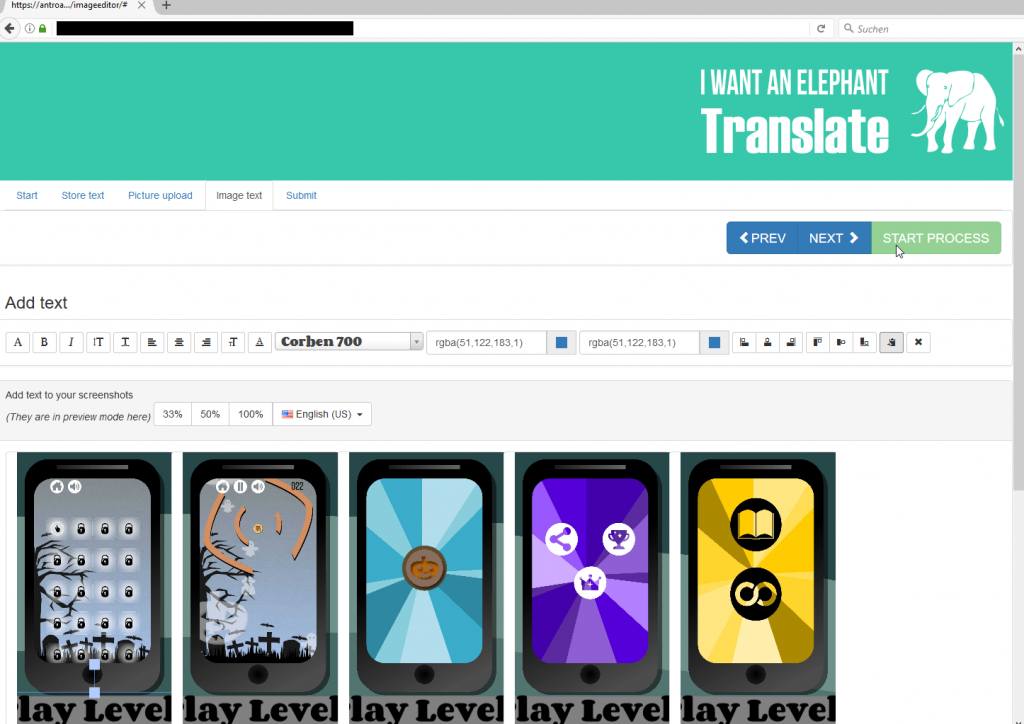 But we felt, this isn't an approach which would be useful to you in the first place. What is the preferred way of creating and designing app screenshot layouts? For sure, it is in a real design environment. Not in a slimmed-down and inadequate online user interface. With limited fonts, colors, editing features, and tools every designer requires. You want to work efficiently, fast and with all equipment you appreciate. However, the listed tools can help you create screenshots quickly and reasonably priced. If you agree to limit your layouts to their restrictions.
In conclusion, we decided to follow another approach. The goal is, to integrate our service as seamlessly as possible into your app publishing process. We won't force you to abandon your design tools and to follow an imagined design process.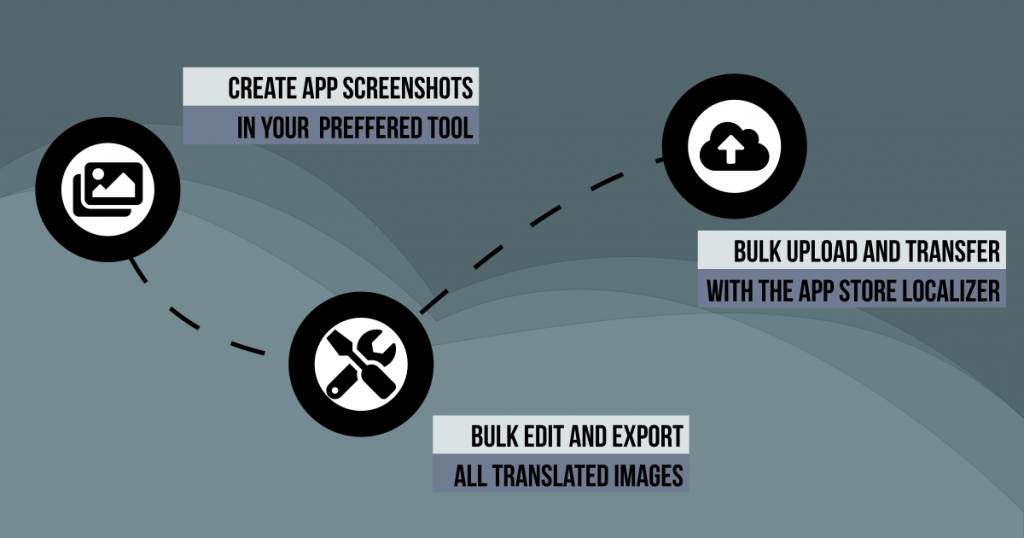 Above all, create your screenshots the way you like it. Use the automation tools of your software to create and polish everything up. And then take our App Store Localizer to transfer all screenshots to the Apple App Store and the Google Play store with a few clicks.
In conclusion, the above-illustrated process is what we have in mind. We are currently working on implementing the first required features. You will be able to create your layouts freely and meanwhile we will handle the scheduled import and transfer for you.
Stay in touch
Subscribe to our newsletter to stay in touch. And be among the first users to try our upcoming image transfer feature.
Other articles