New
Upload App Metadata from Phrase & Lokalise to the App Stores
In an increasingly globalized world, localization has become vital to software and content development. Adapting products, websites, and applications to different languages, cultures, and markets is crucial for reaching a diverse audience. App developers and content creators often use potent tools like Phrase and Lokalise to streamline the localization process.
One aspect of localization is the information required for publishing apps in App Store Connect and Google Play Console. Titles, Descriptions, Keywords, Promo texts, and so on require proper translation.
Phrase and Lokalise allow the maintenance of such descriptions, but the upload process remains a manual task.
The App Store Manager takes the exports of both tools and transfers and uploads them quickly, with just a few clicks to the desired target store. This is cost-efficient and saves a lot of your app update and maintenance time.
This article provides a quick overview of how App Store Manager helps to transfer data from Phrase and Lokalise to App Store Connect and Google Play Console.
Export from Phrase and Lokalise
In the first step, the maintained, translated, and released languages or their contents are downloaded. For this purpose, the corresponding languages are selected, and an output format is chosen.
In Phrase, all default settings should fit; in Lokalise, the country codes must be adjusted if necessary. This can be done per language in the Lokalise Editor. The App Store Manager is fixed to a particular scheme or naming of the languages. For example, it must be "en-GB" for the English translation of Great Britain.
The exact values can be found in the App Store Manager help.
Once the download is complete, you can proceed to the next step.
Import to App Store Manager
In step two, the export is imported into the App Store Manager. For this, a new app with a new description package is created. Of course, importing into an already existing app and package is also possible.
In the tab "App Descriptions" under "Import/Import from file" the Excel file is selected, and the import is started.
The data can then be checked, and either all languages available in Excel can be imported or all.
Once this step is done, all metadata from Phrase or Lokalise will be available in the App Store Manager for upload to App Store Connect or Google Play Console.
Upload to Google Play Console and App Store Connect
The metadata can be transferred to App Store Connect and Google Play Console in the last step.
To do this, press the "Upload" button and enter your access data in the following dialog. These are required for the transfer.
Support on creating the access data can be found in the video form here (Android) and here (iOS) and in the App Store Manager Help.
After a few minutes, all translations from Lokalise or Phrase are transferred to the selected store.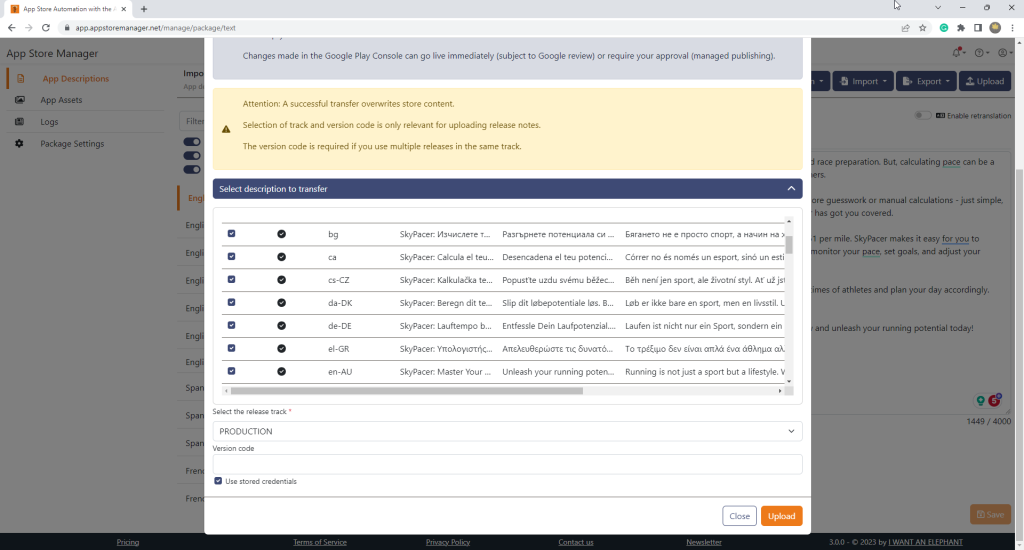 Video tutorial
We have also published the whole process on our channel on YouTube.
Conclusion
Transferring app descriptions from Lokalise and Phrase to App Store Connect and Google Play Console is done quickly with the help of App Store Manager. Several hours of manual clicking and copy & paste can be turned into a few steps and a few minutes.
In addition, App Store Manager can assist in uploading app assets such as app screenshots, icons, and feature graphics.
Other articles